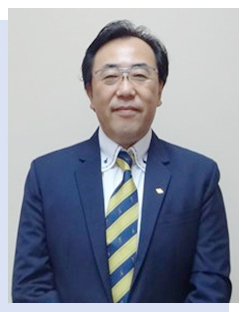 Michio Sasaki General Director
Greeting of General Director
KBK Co.,Ltd - the parent company was established in 1939 and its entry into Vietnam in 2013. KBK VIETNAM's dream is to contribute to society widely through "manufacturing," and we would like to respond to customers' optimum needs. As a professional group of "Manufacturing" that combines the knowledge and experience cultivated in Japan, We are willing to respond to the diverse needs of customers. We are striving to train ourselves as well as human resources and advanced technology to provide high-quality, high-precision products by experienced personnel training. Always taking on challenge spirit ,We will make the best effort and control process to provide the best quality cultivated in Japan. We always look forward to your support and love for us.
Company policy
Policy
One Friendly Feel familiar with mutual relations and meet each other
One Sincerity Work with a truly heart
One Advance Do a job with advanced ideas
We will do our best effort to contribute to society widely through all metal products.
Daily Training
One Good morning
One Thank you
One Welcome
Thank you very much
1.Let's do a lively and healthy job
1.Let's start reviewing from basics
1.Sincerely express gratitude
Glocal Value Creation
At our company, we aim to increase the corporate value of the KBK Group by creating high added value products in Global, expanding the growth of business . The Japanese headquarter will celebrate 80th anniversary in November 2018, and as KBK VIETNAM we will further develop human resources and contribute widely to society.
「G: Glocal」Are you conscious of Global?
「V: Value」Is it high added value?
「C: Creation」Are you creating it?
「Monotsukuri」 We are working on aspiration with the dream of "MONOZUKURI" and Roman with turn into reality.
Company Profile
Company name

KBK VIETNAM Co., Ltd

Address

Lot B_4B1_CN, Road DE2 & NE5B, My Phuoc 3 Industrial Park Thoi Hoa Ward,
Ben cat Town, Binh Duong Province, Vietnam

TEL

0274-222-1500 (1501)

FAX

0274-222-1502

TAXCODE

3702174348

Business type

Enterprise Processing Export (EPE company)

Establishment
of company

March 19, 2013

Capital

$500,000(USD)

Capital composition

100% investmented by KBK Co.,Ltd

Transaction bank

Sumitomo Mitsui Banking Corporation, Mitsubishi UFJ Bank, Resona Bank

Local bank

Eximbank, Sacom Bank

Area

10,000m2

Factory area

2,200m2(First phase construction completed)

Construction area

1,700 square meters (schedule for the second space )

Having ISO 9001

June, 2018

IATF16949

2019 /12 May to be acquired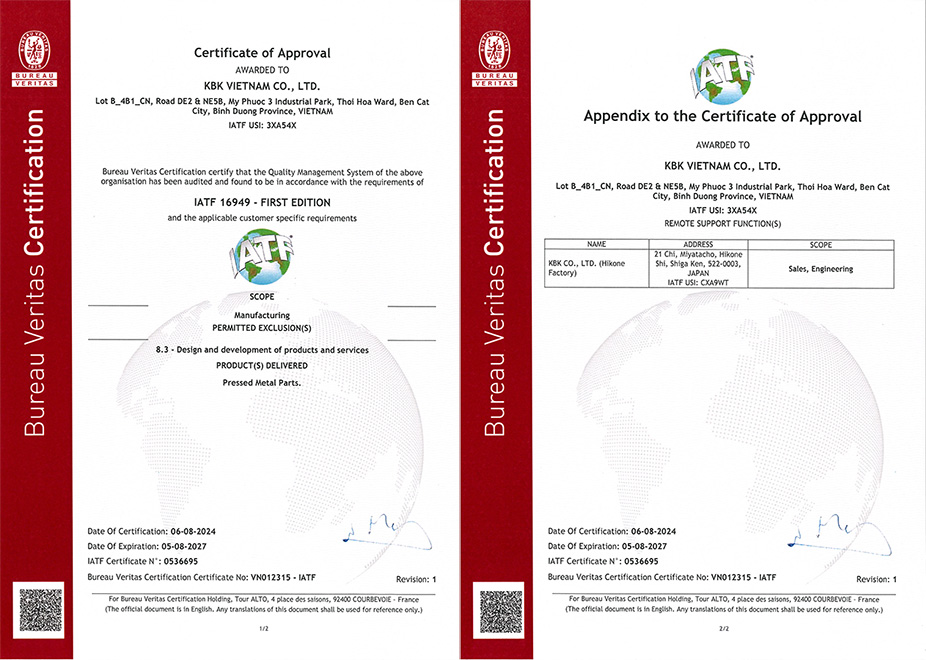 History
January 2012

Visiting to Vietnam

November 2012

Selection of factory location ( Vietnam domestic survey )

February 2013

Determination location (My phuoc 3 industrial park)

March 2013

Registering of factory license (No EPE)

May 2013

Establishment temporary office in Ho Chi Minh city

June 2013

Celebration Ground Festival ( starting factory construction )

June 2014

Factory completed ( first stage construction )

August 2014

Importing equipments ( pressing machine 45 t, 80 t, 110 t)

September 2014

Opening ceremony

December 2014

Recruiting Human Resources and Interviewing (Staffs / Workers)

January 2015

Starting training. Purchasing equiments for mass production.

June 2015

Moving to VietNam factory

August 2015

Vietnamese trained workers from the parent company ( Japan ) jonined VietNam factory ( the first training)

October 2015

Importing a new equipment (high speed pressing machine 30 tons)

December 2015

Auditing from customer (passed)
March 2016

Completion prevention of mixture for incoming and outgoing shipment.

March 2016

Having of import and export authorization

June 2016

Customer's first shipment . First delivery

June 2016

Customer's manufacturing process audit (passed)

August 2016

Having mold sellling authorization

September 2016

Starting mass production for customers

September 2016

Quality / environmental management survey from customer (passed)

November 2016

Importing horizontal reeling machines

December 2016

Importing dimension - measuring equiments

February 2017

Importing a new equipment (high-speed pressing machine 40 tons)

June 2018

Having ISO 9001

December 2018

Introduction of 300 ton press machine

From 2019 onwards

Depending on customer orders status , importing more equipments and having plan for mold manufacturing investment
Overview of parent company
Company Name

KBK Co.,Ltd

Representative Director

Keiji Hazeyama

Headquarter location

3-1-1, Mitsuya naka, Yodogawa ku, Osaka city, Japan.

Capital

98 million yen

Founding

April 1939

Establishment

November 1959

Employee

100 people

Major business

Auto Parts Manufacturers, Harness Manufacturers, Electrical Equipment Manufacturers, Precision Equipment Manufacturers, Electronic Components Manufacture

Business content

Precision metal pressing processing and manufacture & sale of complicated products

Website

www.banec.jp