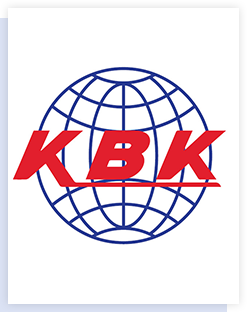 General Director Yohei Sugimoto
Message from the General Director
Since the establishment of "KBK VIETNAM COMPANY LIMITED" on March 19, 2013, Based on the founding spirit of our holding company, KBK CO.,LTD "1. Sincerely, 2. Honesty, 3. Progressive." We are committed to quality first and strive to create attractive products that customers choose. We will continue to consider about what we need to accomplish now and continue our efforts as a forward-looking company. All of our staff will continue to work hard to meet your expectations. We looking forward to your continued support.
Company policy
Policy
One Friendly Feel familiar with mutual relations and meet each other
One Sincerity Work with a truly heart
One Advance Do a job with advanced ideas
We will do our best effort to contribute to society widely through all metal products.
Daily Training
One Good morning
One Thank you
One Welcome
Thank you very much
1.Let's do a lively and healthy job
1.Let's start reviewing from basics
1.Sincerely express gratitude
Glocal Value Creation 2026
We aim to increase the corporate value of KBK Group by creating higher value products globally and and simultaneously expanding the growth of our business.
Gloval (Business growth): Although maximization revenue and profits in current business areas but we will still promote cost improvement activities and expand KBKVN's business.
Value (Improving quality): We aim to unionize 「Business growth」with 「Improving quality」Improve productivity flexibly, with safety being the top priority.
Creation (Growth of human resources): Diverse human resources can maximize their personal skills, We will promote the creation of a system that can be used globally.

Company Profile
Company name

KBK VIETNAM Co., Ltd

Address

Lot B_4B1_CN, Road DE2 & NE5B, My Phuoc 3 Industrial Park Thoi Hoa Ward, Ben cat Town, Binh Duong Province, Vietnam

TEL

0274-222-1500 (1501)

FAX

0274-222-1502

TAXCODE

3702174348

Business type

Enterprise Processing Export (EPE company)

Establishment
of company

March 19, 2013

Capital

$500,000(USD)

Capital composition

100% investmented by KBK Co.,Ltd

Transaction bank

Sumitomo Mitsui Banking Corporation, Mitsubishi UFJ Bank, Resona Bank

Local bank

Eximbank, Sacom Bank

Area

10,000m2

Factory area

2,200m2(First phase construction completed)

Construction area

1,700 square meters (schedule for the second space )

Having ISO 9001

June, 2018

IATF16949

2023 /9 May to be acquired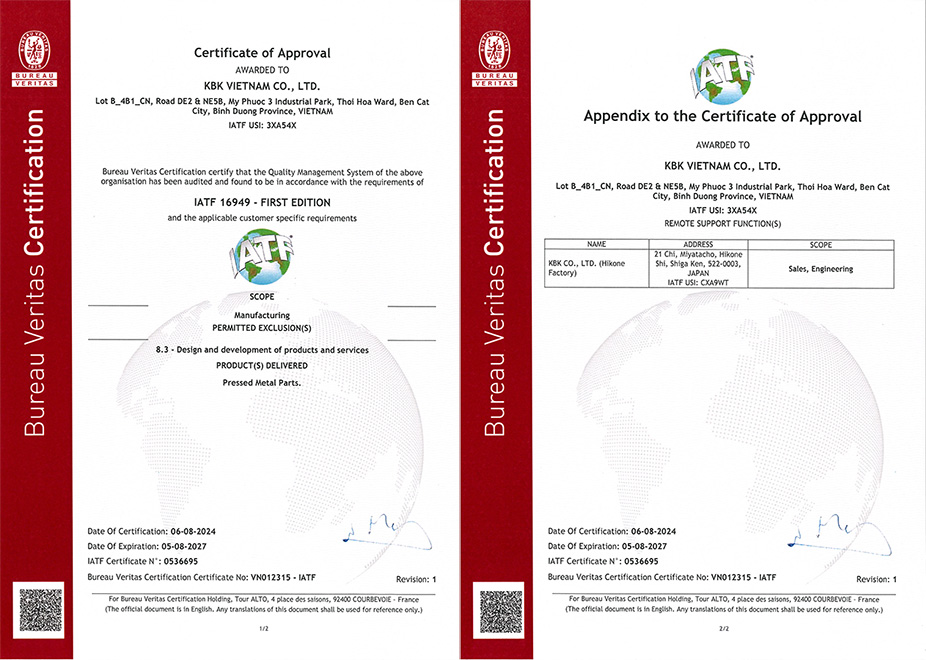 History
January 2012:

Visiting to Vietnam

November 2012:

Selection of factory location ( Vietnam domestic survey )

February 2013:

Determination location (My phuoc 3 industrial park)

March 2013:

Registering of factory license (Non EPE)

May 2013:

Establishment temporary office in Ho Chi Minh city

June 2013:

Celebration Ground Festival ( starting factory construction )

June 2014:

Factory completed ( first stage construction )

August 2014:

Importing equipments ( pressing machine 45 t, 80 t, 110 t)

September 2014:

Opening ceremony

December 2014:

Recruiting Human Resources and Interviewing (Staffs / Workers)

January 2015:

Starting training. Purchasing equiments for mass production.

June 2015:

Moving to VietNam factory

August 2015

: Vietnamese trained workers from the parent company ( Japan ) jonined VietNam factory ( the first training)

October 2015:

Importing a new equipment (high speed pressing machine 30 tons)

November 2015:

Registering of factory license (EPE)

December 2015:

Auditing from customer (passed)
March 2016:

Completion prevention of mixture for incoming and outgoing shipment.

March 2016:

Having of import and export authorization

June 2016:

Customer's first shipment . First delivery

June 2016:

Customer's manufacturing process audit (passed)

August 2016:

Having mold sellling authorization

September 2016:

Starting mass production for customers

September 2016:

Quality / environmental management survey from customer (passed)

November 2016:

Importing horizontal reeling machines

February 2017:

Introduction of CNC image measurement system (Nikon、Keyence)

June 2018:

Having ISO 9001

December 2018:

Introduction of 300 ton press machine

November 2019:

Addition of CNC image measurement system (Nikon)

May 2020:

Projector measurement system introduced (Mitsutoyo)

August 2022:

Addition of forming grinder (polishing machine)

March 2023:

Added 110 ton press machine

From 2024 onwards:

Scheduled to be introduced sequentially depending on new product order status
Overview of parent company
Company Name

: KBK Co.,Ltd

Representative

: DirectorKeiji Hazeyama

Headquarter location

: 3-1-1, Mitsuya naka, Yodogawa ku, Osaka city, Japan.

Capital

: 98 million yen

Founding

: April 1939

Establishment

: November 1959

Employee

: 100 people

Major business

: Auto Parts Manufacturers, Harness Manufacturers, Electrical Equipment Manufacturers, Precision Equipment Manufacturers, Electronic Components Manufacture

Business content

: Precision metal pressing processing and manufacture & sale of complicated products

Website

: www.banec.jp